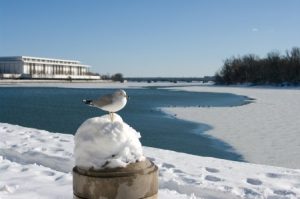 So you've taken a pretty daring step by choosing to leave the country where you grew up to move to the U.S. for further studies.  You're probably going to face some form of culture shock, even if you grew up in the Western hemisphere.  However, this doesn't mean that your stay in the U.S. has to be unpleasant.  You can learn a great deal, in academic and social terms, and you can have a good time if you give in to the spirit of adventure.  The process is going to ask a great deal from  you, so it's important to stay positive.  Here are a few tips for international students, written by someone who has gone through the process herself:
Climate.  Before you move to Washington D.C., it's best to know what you're getting into in terms of climate.  The average winter temperature here is 38 degrees while the average summer temperature is 80 degrees.  If you're used to calculating temperature in Celsius, that comes to 3.3 degrees in the winter and 26.6 degrees in the summer.  It's best to prepare for the weather as much as you can before you come.  However, if you live somewhere warm, don't bother buying a winter jacket there because you'll find much more variety in the stores here.  So it's better to do your shopping after you move.
Food.  You're going to have to adjust to American cuisine.  Depending on where you come from, this may be harder or easier.  If you grew up in a country like India where the food is spicy, the adjustment will seem hard.  Also, if you grew up vegetarian, you may not find many options.  When it comes to food, don't try to change your palate overnight.  Your body doesn't react well to ingesting food that is totally different from what you're used to.  So break it in slowly.  And if you can carry seasonings that will make the food more palatable, then feel free to do so.
People.  Once you've made the physical adjustments to a certain place, you also have to make the mental adjustments.  You'll need to learn how people communicate in the U.S. and how it's different from where you grew up.  Often, people tend to think of Americans as loners but this doesn't have to be true.  In the U.S., people often take things at face value.  If someone asks you to join them for a social gathering and you say no, they won't force you.  In other cultures, it's often considered customary to try to persuade someone to join you for a night out.  Keep this in mind and say exactly what you feel.  The people you meet will appreciate you for it.
Contact us for more tips for adjusting to life in the United States.
Interested in pursuing a degree?
Fill out the form and get all admission information you need regarding your chosen program.
This will only take a moment.