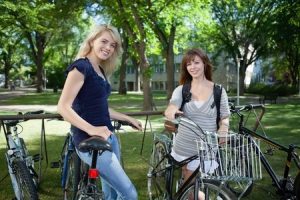 It's Friday night, money is tight, but your friends have invited you out for some fun in the big city. But you're experiencing a conundrum. You know that if you accept their offer, you'll like starve come Monday. You hem and haw for a few minutes, and finally decide to say yes. Why? Because you just discovered some keen ways for college students to save money on all of their favorite activities, while still having funds available for the necessities.
Here are 6 ways to remain frugal, while still maintaining your budget.
1. Textbooks are expensive. A great way around the exorbitant price of textbooks is to rent them or buy them used from booksellers or friends. There are many exchange programs and websites dedicated to saving you money on college textbooks. We're talking hundreds of dollars of savings… per book.
2. Limit dining out. It's difficult to resist time out with friends at your favorite restaurants, but limiting the time you dine out will greatly reduce your living costs (this includes coffee shops in the morning — brew your own for added savings). Try only eating out for special occasions.
3. Save money on transportation. If you live near campus, instead of driving everyday, take public transportation or set aside some extra time and walk instead. Or, if you already have a bicycle, bike to class. The money you save on gas will really add up fast.
4. Contact your wireless carrier. There is no doubt that your phone plan is costing you. So try for a better rate. Simply contact your wireless carrier, and ask about ways to reduce your package rates. A simple reduction in your data package can save you $20 a month. That's a lot of ramen noodles!
5. Look for student discounts. Many shops and restaurants offer student discounts to attract students in the area. Don't underestimate the savings power of 15% off of a meal. Be savvy about where you shop and eat, and look for posted student discounts in windows.
6. Free can be fun too. In big metropolitan areas like D.C., there is no shortage of activities, and not everything costs money. Get in touch with student services and ask about activities around the city that are free to students, and save your money for things you really need.
Being a student can be expensive. So doing anything you can to offset costs should be a priority. All it takes is some pre-planning and a positive state of mind and your bank account will be a much happier place.
We're here to help! Please don't hesitate to contact us with your questions and concerns.
Interested in pursuing a degree?
Fill out the form and get all admission information you need regarding your chosen program.
This will only take a moment.