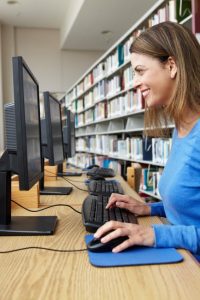 Attending an online degree program is one of the best things that a busy person can do to gain greater success in life. Earning an online degree through an accredited university is a life choice that can only end with positive results.
But where do you begin with your future degree?
Some people want to better themselves financially and educationally, but they don't know how to get the educational ball rolling. While other people are incredibly busy with work and kids, and they have no time for a traditional degree program.
What both types of people have in common, however, is that they both want to succeed in college, but are unsure as to what measures to take to create a better future for themselves.
Here are seven ways of getting the most out of your online degree program.
1. Be prepared to work on your own. You're a self-starter, you applied to attend online classes, so working autonomously won't be a problem for you. Just remember, without a formal classroom, some of your work will rely only on you. Working alone is one of the first learning curves to overcome for attending online classes.
2. Don't fear technology. Online classes take place in the virtual classroom — this much is true. What it doesn't do, however, is stop those who are less tech savvy from a true pedagogical experience. With most online degree programs, the technological aspects augment your experience and don't hinder it. So embrace change.
3. Set aside the time that you need to succeed. Online degree programs require extra time out of your life. But that's what makes them so special. When compared to a traditional degree program, which requires a strict schedule, an online Bachelor's or Master's program lets you decide what times work best for your busy schedule.
4. Become pals with your classmates. Just like a traditional classroom, connecting with peers is what makes the experience so special. There will be many times for you to connect with peers and work together. To get the fullest online degree experience, make friends with those who will help you attain your degree.
5. Share your issues with your instructors. Your instructors are there to help you earn an online degree, so use them for their knowledge and experience. When you are having issues, reach out to your instructor for help. In the end, an instructor is the only thing un-virtual about your online degree.
6. Make a plan and stick to it. To succeed in an online degree program, you must be disciplined. There may be virtual classes to attend, programs to make sense of, assigned work that needs to be completed, books read, and papers to write. It is a true college experience, minus the travel. To make the most out of your online degree program, and to be your best, set a schedule and work your life around it as much as possible.
7. Don't give up when times get rough. You made it this far, so don't quit now. Much like attending a physical classroom, an online degree program requires commitment. So in order to succeed, you sometimes have to go the extra mile to make things work. While, at times, this might seem like an uphill battle, we can guarantee that all of your hard work will pay off in the end.
Earning your degree takes what is best about you and mixes it with your drive and desire to succeed. So, while it doesn't always take a special person to earn an online degree, it helps if your commitment for greater things and a brighter future always have your back.
Interested in pursuing a degree?
Fill out the form and get all admission information you need regarding your chosen program.
This will only take a moment.
Are you ready to create a better future? We can help you with your online degree! Please don't hesitate to contact us today for more information on graduation rates, programs, and more.
At University of the Potomac, you're able to balance current commitments like a job and family while earning a valuable degree.