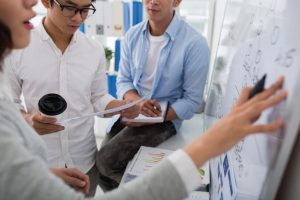 We get plenty of questions about our business degrees, particularly our bachelor's degree in business management. So we thought to ourselves, why not compile these questions in a convenient format? Keep reading for answers to the FAQ and what you should know about business management degrees.
What salary should I expect with a business management degree?
Naturally, if you are considering a bachelors degree in business management, career possibilities are likely on your mind. And while we caution that average salaries can vary wildly based on your location and the specific job in which you are interested, here's some encouraging news: your starting average salary, based on your specific career, lies right around $50,000, and can go even higher from there. Generally speaking a business bachelors degree alone adds between $2,000 and $5,000 per year to your expected salary.
What is the potential for finding a managerial position once I graduate?
Unlike other career fields, which depend greatly on marketplace and technology fluctuation, companies throughout the U.S. and internationally will always need managers among their employees. So the job outlook is positive, with faster-than-average job growth in sales management, health care management, HR management and more, according to the Bureau of Labor Statistics. Meanwhile, U.S. News and World Report estimates a job growth of 3 million managerial positions in the coming year alone.
How do I achieve my Bachelors in Business Administration?
The answer is simple: you find a reliable university that offers business management programs either in your immediate area or online. In your search, you'll want to look for accredited institutions that clearly outline their path to graduation, allowing for maximum transparency along with a proven success record. You should also know ahead of time your financial abilities and financial aid possibilities, which could make the program much more affordable for your needs.
What would be a good minor/specialization to accompany my major?
The answer to this question depends entirely on your individual needs and career ideas. Generally, it makes sense to get a management in your general area of interest, and a specialization to truly focus your career choices. These certificates or minors could include marketing, communications, international business, and more.
What types of management degrees are available?
At the University of the Potomac, we offer a variety of focused management degrees to help you jump start your career:
Interested in pursuing a degree?
Fill out the form and get all admission information you need regarding your chosen program.
This will only take a moment.
Hospitality Management degree is perfect if you're looking for a degree in that field. Students learn the necessary HR and management skills to succeed in the area.
Information Technology. Almost every U.S. company now requires significant IT expertise among their managers, so IT degrees like this one are more desirable than ever.
International Business. Looking to work for a multinational corporation or spend some time abroad? This degree helps you understand the varying needs of international marketplaces and cultures that help you transfer the skills and knowledge you learn in your business management degree to other countries.
Government Contract Management. Particularly if you want to begin your career in Washington, D.C., don't underestimate the public sector as a career path. This degree helps you navigate the jungle of government contracts and their differences from the commercial sector.
Where can I get my business management degree?
The answer to this question depends entirely on your individual needs and university preferences. But if you're looking for a degree at the University of the Potomac, you can get your degree in Washington, DC, at our branch campus in northern Virginia, or – best of all – entirely online from anywhere.
To learn more about our management programs and how they can benefit your future career, along with information on how to apply, contact us today.