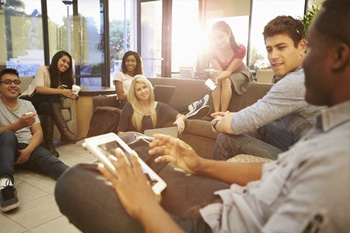 So you've made the decision to dream your dream, and study in the United States. Your visa is ready to go, the bags are packed, and you're just waiting for the plane to take off. But what can you expect when you land in Washington, D.C., ready to start your journey at the University of the Potomac?
International Orientation
Before classes start, you and the other international students will be guided through what to expect in our orientation for international students. You'll learn about the school's academic policies, teaching philosophies, curriculum, and related services. And in the process, you'll also get to know your fellow international students, bonding with them and making friends that will last you through the semester and often a lifetime.
Sightseeing
But throughout the process, you'll be able to forget that you are in the capital city of the United States, one of the most famous cities in the world. And Potomac is only three blocks away from the White House, where the country's president resides! So naturally, you'll want to go sightseeing. If you're looking to hit the major spots, we suggest the White House, the Lincoln Memorial, the Washington Monument and the Capitol, where the U.S. congress discusses and makes laws. All are possible to view within strolling distance on a nice summer afternoon, and you'll encounter many other monuments and museums along the way.
Getting Ready for Classes
Before you know it, it's the evening before classes start and you officially become a U.S. college student. How about some last-minute preparations to make sure that you're ready for the next morning? Pack your backpack or messenger bag lightly, with only the notebooks needed for each class that day. Pack plenty of pens, you never know when you'll run out. And don't forget your textbooks, whether they're loaded electronically on your tablet or physical copies!
These three events will highlight your first week at the University of the Potomac, but they're only a small part of the experiences and memories international students will make while studying here. Contact us to learn how you can apply to become a college student!
Interested in pursuing a degree?
Fill out the form and get all admission information you need regarding your chosen program.
This will only take a moment.