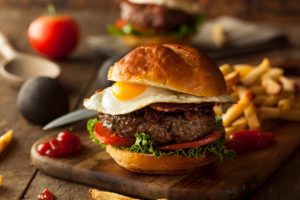 While studying at our university in Washington, DC, you'll likely work up an appetite.
When you're ready to close the books and take a break, here are some great places to dine:
Busboys & Poets 
Busboys & Poets contains a restaurant, lounge, theater, and bookstore under one roof. When it comes to the menu, you'll find chicken quesadillas, shrimp cakes, sweet potato hash, coconut tofu bites, and vegan quesadillas.
Burger Tap & Shake
At Burger Tap & Shake, you can bit into a juicy burger such as the Haight-Ashbury, Brunch Burger, and Six Buck Chuck, and on the side, you can have onion rings, French fries, or sweet potato fries. This restaurant is also known for its milkshakes that come in several flavors including chocolate, blueberry-pomegranate, and tart cherry.
We, the Pizza
If you're in the mood for a hot pizza with gooey cheese, head to We, the Pizza. Its menu includes Pepperoni Pie, Artisanal Four Cheese Pie, Fresh Buffalo Mozz & Roasted Tomato Pie, and The Sicilian.
Good Stuff Eatery
Located one block from the Library of Congress, the Good Stuff Eatery offers farmhouse burgers topped with farm fresh tomatoes, pickles, lettuce, and thinly sliced onions, along with its original burgers that include Spike's Sunnyside and the Blazin' Barn. Don't forget to order a hand-spun milkshake!
Bub & Pop's
At Bub & Pop's, you can bite into a delicious sandwich: Pop's Beef Brisket, Bolognese Parmesan, Chicken Parmesan, and Bub's Italian Hoagie.
Lebanese Taverna
Situated across from the Woodley Park Metro station, this conveniently located restaurant is perfect for meeting up with friends. Its menu has entrées such as chicken curry, ovzi with grape leaves, and traditional lamb sharat, along with flatbread sandwiches, salads, and desserts.
Ted's Bulletin
If you've studied late into the night, head to Ted's Bulletin where you can order breakfast 24/7. Its menu offers omelets, pancakes, French toast, and house-cured corn beef hash. Not in the mood for breakfast? Then try the fish and tots, grilled chicken kababs, or buttermilk country fried steak.
Pearl Dive Oyster Place
Found in DC's Logan Circle neighborhood, the Pearl Dive Oyster Place has a rustic the decor that features repurposed items from around the country. On its menu, you'll find Cedar Island Oysters, Old Black Salt Oysters, Kumamoto Oysters, and Wood Grilled East Coast Oysters.
Amsterdam Falafelshop
Taste the authentic flavors of the Middle East and Europe at the Amsterdam Falafelshop, where you can order a falafel sandwich or a falafel bowl with fries on the side.
Founding Farmers
All food comes fresh from the farm, and the Founding Farmers lunch/dinner menu offers long roasted pork chops, meatloaf and gravy, salt crusted prime rib, and an avocado bacon burger.
Luke's Lobster
Luke's limited menu offers a shrimp roll, crab roll, and lobster roll as well as sides such as New England Clam Chowder, Jonah Crab Claws, and Cape Cod Chips.
Interested in pursuing a degree?
Fill out the form and get all admission information you need regarding your chosen program.
This will only take a moment.
The Red Hen
Located in the historic Bloomingdale neighborhood, this Italian-influenced American restaurant serves a variety of dishes such as butternut squash fonduta & quinoa, grilled beef short ribs, and rigatoni.
Sakuramen Ramen Bar
At the Sakuramen Ramen Bar, start with an appetizer of spicy beef pork before your main meal of DC Miso, Shoki Bowl, Gojiramen, or Spicy Miso.
Chop't Creative Salad Company
When dining at this restaurant, you can order the spicy Singapore noodle bowl, falafel market plate, Mexican Caesar, kebab salad, and the New England Harvest.
Georgia Brown's
Georgia Brown's cooks up fine Southern cuisine. Entrées include buttermilk fried chicken, gumbo, sugar and spice pork chops, and shrimp & grits. Save room for one of the delicious desserts such as bourbon chocolate pecan pie, bread pudding, and a flourless chocolate tort.
Please contact us if you're interested applying to our university.