Being a doctor or a scientist used to be a dream ticket for many of us. However, we come to understand that these career paths require a lot of effort and education. By the same token,  lab technicians play an essential role in the medical field making a profound impact on people's lives. If you are zealous about making a difference and earning a steady source of income at the same time, being a laboratory technician provides the best of both worlds.
The thing is, you don't have to worry about cutting heavy tissue, covering wounds, or performing all that bizarre work that doctors do. Think of a lab technician as someone working behind the scenes, but you can rest assured that they will function effectively to provide personalized care to patients, manage the labs and assist doctors in treatment.
Although, it's not just that. There is a lot more at stake for lab technicians than simply maintaining lab equipment, preparing catalogs, running blood tests, and other daily tasks. Being a laboratory technician demands highly technical and scientific expertise as well as ongoing skill upgrading. Those who choose to become a lab technician will embark on a long-lasting, glittering career in a field with so much diversity and impact.
What Does a Laboratory Technician Do?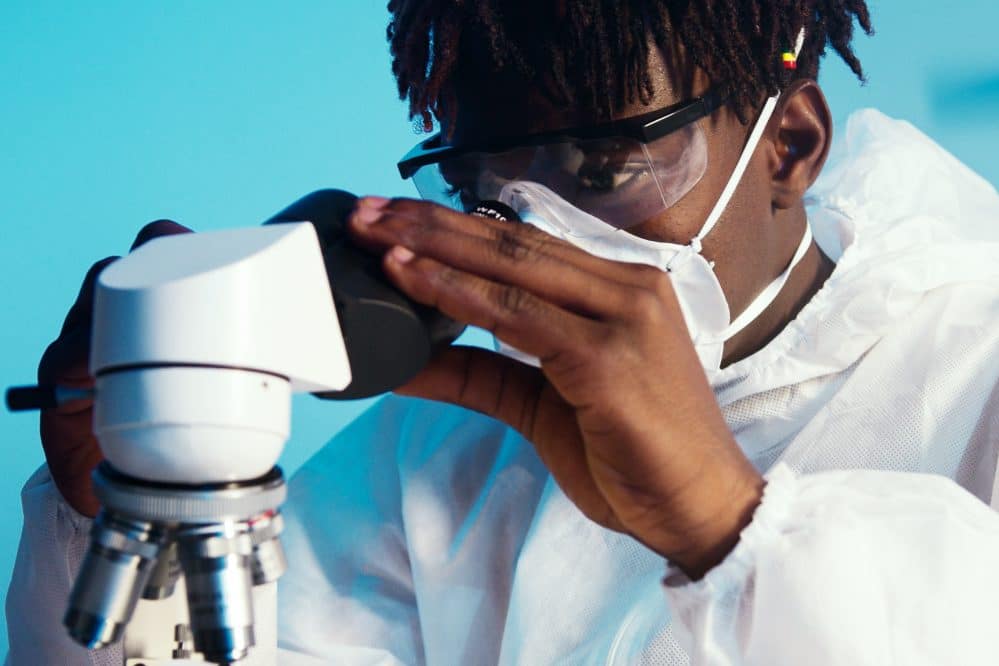 Lab technicians play an essential role in assisting physicians provide good healthcare within reach to all patients. A typical routine of a lab technician includes designing and executing lab tests on the basis of Standard Operating Procedures (SOP)  while assuring optimal patient outcomes. In addition, they make sure that all safety guidelines are carefully followed the whole time and maintain a safe and pristine working area. Keep in mind that if you decide to work in a lab you will be frequently exposed to various fluids, compressed gases, and other chemical substances. If that makes you nervous from the start, it's not too late to turn back.
In order to give you a better overview of what exactly a lab technician does, we've compiled a list of key responsibilities and duties that characterizes a typical day of a laboratory technician.
Guided and instructed by their professional advisor and under the established policies and protocols, a laboratory technician might be required to do the following:
Maintain and tend to lab equipment
Lab technicians are often asked to clean and calibrate the instruments and make sure that they are functioning properly. Besides, they ensure that adequate safety procedures are identified, maintained, and reviewed.
Receive chemicals and stock supplies into the lab inventory
They inspect the received products to check for accurate sampling, packaging, and labeling and ensure proper storage and handling. They also make sure that all relevant documentation is in order and examined immediately.
Report all unexpected results and abnormalities to supervisors
Lab technicians are responsible for communicating any deviations in test results and address them accordingly to appropriate personnel. They also keep records of all necessary data in the system both in paper and electronic form with meticulous attention, responsibility, accuracy, and efficiency.
Analyze, label, and examine
Various samples from patients such as tissues, cells, blood, toxic are analyzed, labeled, and then examined. Lab technicians need to determine that their diagnostic analysis is without error and that the procedures used yield the correct results.
Conduct and assist in various experimental tests and interpret their results
Every now and then, laboratory technicians are assigned to perform experiments in order to verify or reject a given hypothesis using scientific methods provided by their task manager.
How To Become a Laboratory Technician: Requirements
Those who decide to assume the role of a laboratory technician need to have the appropriate technical education and choose the right major. To initiate your career as a lab technician, you should have a high school diploma and take the GED test.
While not necessarily required, it would be ideal to have a one-year lab experience and have a good grasp of chemistry, biology, and mathematics. There are also some vocational qualifications such as NVQ with specialization in Laboratory Sciences and particular courses that can be completed in high school, but they will only get you so far.
In order to increase the likelihood of getting a lab position that requires additional specialties, you need to start plugging away at furthering your education. You might be asking yourself "what academic qualification I need to obtain in order to be a lab technician?"
Although not required by employers, earning a bachelor's or a master's degree will definitely help you beat the competition and advance your career. However, the minimum requirement to be a certified lab technician is completing an associate's degree which is a 64 Credit program and typically lasts about 2 years full-time. Courses for this program focus on major areas of laboratory sciences and give you a better insight into the basics of lab skills.
Depending on what type of major you decide to enroll in, you'll learn about Microbiology, Chemistry, Hematology, Serology, Coagulation, and blood bank among others. These courses will equip you with both theoretical knowledge and practical hands-on experience so you know what's in demand once you enter the workforce. Some employers might also require some further certifications such as ASCP or other nationally recognized certifications within 90 days of hire.
A bachelor's or a master's degree in chemical, biological, or medical/clinical laboratory science or healthcare administration will increase your advancement opportunities and seek promotions for higher-level roles. Combining additional education with experience will further serve as proof of increased expertise and that you are ready to undertake additional responsibilities essential to the successful performance assigned to the position.
If you believe that the role of a lab technician interests you and you are ready to undertake the responsibilities and duties mentioned above, then you might be on the right track. Take into account the academic background, certifications, and programs available, choose wisely, and make a sound decision for your career as a laboratory technician.
Laboratory Technician Qualities and Skills: Requirements
Interested in pursuing a degree?
Fill out the form and get all admission information you need regarding your chosen program.
This will only take a moment.
In addition to the academic requirements (certifications, degrees, etc.) and the relevant work experience, you must also develop a set of skills in order to be successful at your job as a laboratory technician. The skills and qualities you need to develop as a laboratory technician are highly applicable to other careers as well. They include but are not limited to:
Strong attention to detail – Being a laboratory technician means running tests, measuring, calculating, etc., all while paying attention to rules and regulations. All of these processes need to be exact and free of error in order to get accurate results.
Time management skills – Working as a laboratory technician means, more often than not, you will be dealing with several sets of data. Having excellent time management skills will ensure you complete your tasks successfully and in a timely manner. 
Communication skills – Whatever the industry you choose to work in, you will have to work with other people at some point. Good communication skills are critical to things running smoothly inside a laboratory. A laboratory technician needs to understand the task at hand, successfully complete it, as well as compile clear and comprehensive reports.
Other skills that are specific to laboratory technicians are:
Pipetting – Being able to use laboratory equipment correctly as a laboratory technician is a must. Learning how to use a pipette properly is a must since almost all laboratory work requires it.
Sterilization – This is another essential skill to master as a laboratory technician. A laboratory is filled with substances that can be hazardous when in contact with other materials; that is why it is vital to sterilize the laboratory and the equipment properly. Proper sterilization prevents possible contamination as well as guarantees accurate lab test results.
Calibration and maintenance – The majority of the work done in laboratories includes machines, which is why laboratory technicians must take care of the equipment through regular calibration and maintenance.
Safety – Constantly working with dangerous materials requires learning safety guidelines of adequately handling and disposing of such materials.
Teamwork – In addition to working with people outside the laboratory, being a lab technician sometimes requires collaboration with other lab technicians. Being able to work in teams has a lot of benefits, including supervising each other's work to avoid errors. 
Lab Technician Job Outlook and Salary
If you are considering becoming a lab technician, it's a given that you're wondering about the job outlook and salary. According to the Bureau of Labor Statistics (BLS), clinical laboratory technologist and technician positions will experience a growth rate of 11% by 2030. At the same time, the annual median salary for laboratory technologists and technicians was $54,180 in 2020. However, the salary for laboratory technicians differs depending on the location, qualifications, relevant work experience, etc.