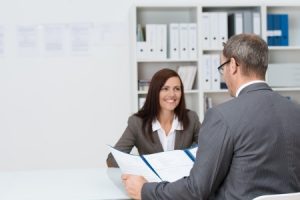 When you are in search of a job, interviewing can be quite stressful because you really want the job and want to succeed and impress your potential future employer. It is important that you work to combat this stress though in order to be successful in an interview. Stress can prevent you from being your usual, confident self. So here are some interview skills and tips to help you avoid stressing before an interview:
Be Prepared: Understand the job in which you are going to be interviewing for. This is going to help you prepare with answering questions. You will want to pinpoint your specific skills and past experiences that make you the right candidate for the job. Plus, knowing a great deal about the company and their goals in hiring you can be impressive for the employer because it shows that you have interest and drive in their company.
Avoid Negative Self-Talk: Before an interview, and even after an interview, you may begin to notice that you are pointing out flaws to yourself in your head. You want to be sure that you avoid this and instead recognize the good in yourself. Negative self-talk takes away from your confidence and abilities to succeed because you will be so distracted on what not to do instead of what you should do in order to succeed.
Focus on the Success: Again, by steering clear of negative self-talk, you are allowing yourself more room to focus on success. You are going to be able to think about what you can do to show that you have drive and understand what it is that you need to do to impress your employer. This is going to help give you the confidence that you need to be able to answer questions thoroughly, as well instead of stuttering.
For more information about how to be successful in your future, please contact us. We have all the resources and information that you need to be successful in landing a job in America.
Interested in pursuing a degree?
Fill out the form and get all admission information you need regarding your chosen program.
This will only take a moment.