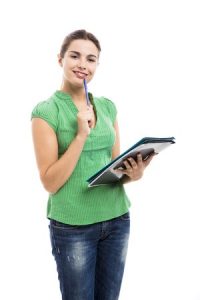 #1: Have Answers Ready for Common Interview Questions – Answering questions promptly and appropriately is the most important thing to remember with interview skills and tips. The following types of questions are quite likely to be asked of you during an interview, so have your answers ready. How have you overcome conflict in the past? How have you come up with a new way of doing things? What are your goals for the future? Do you have any questions for us?
#2: Dress Comfortably – Of course you want to look professional with a neat, stylish appearance, but the worst thing to feel during an interview is uncomfortable. Wear clothing that allows you to breathe and move around easily. Your comfort with your body will transfer to maintaining calm and keeping your mind focused on the interview at hand.
#3: Practice Direct Eye Contact – This may sound simple, but when people are nervous, they tend to shy away from direct eye contact, especially with superiors. It's especially important to maintain direct eye contact while you are answering questions and when you shake hands with your potential employers.
#4: Bring Pen & Paper – Having your own pen and a little pad of paper to take notes on if necessary communicates a strong level of professionalism and preparedness to your potential employers. Plus, if they want to hire you, they may be ask you to fill out paperwork directly after your interview.
#5: Bring Reference Information & IDs – If the company is seriously considering you as a future employee, they may ask you for contact information of your references and forms of identification on the spot. You don't want to miss the opportunity by not having the information requested at the time.
#6: Turn Your Cell Phone Off – This may sound like a no-brainer, but it's easy to forget—and if your phone buzzes during an interview, you will definitely lose some credibility with your potential employers. Consider turning your cell phone off before you even walk into the building to make sure that you remember.
For more information about our degree programs that can prepare you well for one of the jobs you are interviewing for, contact us.
Interested in pursuing a degree?
Fill out the form and get all admission information you need regarding your chosen program.
This will only take a moment.