[av_textblock size=" font_color=" color="]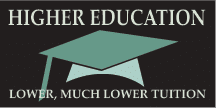 July 10, 2017, Washington, D.C. — In a move to make education significantly more accessible and affordable, University of the Potomac (UOTP) is reducing domestic tuition costs by 55 percent for associate's and bachelor's degrees and 37 percent for master's degrees and offering a no-interest payment plan to domestic students.
"It has long been in the hearts of our board, ownership, and faculty to reduce the burden of high tuition costs for our students," said Dr. Clinton Gardner, President of UOTP.
Beginning with UOTP's September session, the total tuition for a domestic associate's degree will be $14,400 and $28,800 for a bachelor's degree. Tuition for master's degrees will be $16,200. A student's tuition rate will be locked in for the duration of the degree program.
"Even with the dramatic decrease in tuition, we do not anticipate having to raise our tuition for some time," Gardner said. "With our focus on delivering a solid education, we are finding ways to reduce costs in areas that have little to do with delivering a quality education to our students."
Part of what makes this significant reduction in tuition rates possible is offering all programs fully online or for students in the Washington, D.C., Virginia, and Maryland areas, in a once-a-week campus hybrid model. Gardner explained that online or once-a-week classes are both good choices for people wanting to further their education while managing work and family.
In addition to lowering tuition, the university will offer students a no-interest payment plan that allows students to pay $350 per month. Oksana Malysheva, CEO of Linden Education that owns UOTP, said universities must do a better job of not only controlling costs but helping students manage their educational debt.
"It's concerning that most universities insist on raising their tuition every year or so," Malysheva said. "Through Potomac, we are taking steps to prove that a quality education can be delivered at a reasonable cost through efficient business practices."
Established in 1991, University of the Potomac is an independent institution focused on providing education to a diverse, multicultural student population in the Washington, D.C., area. UOTP's student-to-faculty ratio allows for an exceptional level of mentoring to help ensure a meaningful and successful university experience.
UOTP is accredited by the Middle States Commission on Higher Education and is certified by the State Council of Higher Education for Virginia and licensed by the Higher Education Licensure Commission of the D.C. Office of the State Superintendent of Education. The main campus is located at 1401 H Street, N.W., Suite 100, in  Washington, D.C., with its Virginia campus located at 2070 Chain Bridge Road in Vienna, Virginia.
Interested in pursuing a degree?
Fill out the form and get all admission information you need regarding your chosen program.
This will only take a moment.
[/av_textblock]