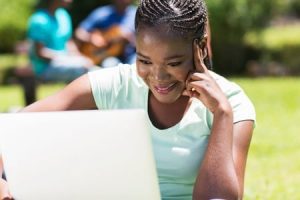 Anyone who shops online can describe the peculiar anxiety about paying for something you have not seen or touched. The same apprehension applies to shopping for online degree programs. This anxiety increases exponentially when you go from buying a book from Amazon.com to investing thousands of dollars in a college degree. Graduating from an online degree program can be, and should be, as rewarding as attending school on any beautiful campus. The first step is diligence in the selection process.
Make sure the program caters to your specific major. Do not be discouraged by a school's prerequisites. That is why you are shopping. Colleges are aggressively recruiting online students, so take advantage of a buyer's market. If you make the right decision it is a win-win for everyone involved.
Narrow your choices according to your specific educational needs. Contact the admissions departments of your chosen schools. Contact us for specifics on the University of Potomac.
Some admissions processes are trickier than others. You want to make sure that you do not go through the troubles of applying if you are not serious. You may find hidden obstacles. Applications and transcript requests are costly and time-consuming. Writing essays and personal stories is not to be taken lightly. A quick and thorough phone conversation with a knowledgeable adviser can save hours of trouble and thousands of dollars.
After obtaining the basic information from various admissions offices narrow your choices to two or three attractive candidates. You will find that very different kinds of school offer similar online programs. A letter from a recent graduate related the following story:
"I narrowed my choice to two schools. My first choice was a reputable institution with 30,000 undergraduates attending campus programs. My second choice was a smaller branch of a very reputable university system. Both schools were out-of-state, and they both offered accounting programs that would easily combine my transferable credits. This limited my hours to the standard 30 credit requirement to achieve a Bachelor's Degree.

"As I got further into the process it was evident that my first choice was going to require that I attend classes outside of the online program to meet a math requirement. This meant a delay in my schedule and my first math classes in 30 years. I kept continuous contact with my second selection and developed some very constructive relationships with the advising staff. My second option waived my math requirement and then the choice was easy. Several phone calls and a solid ACT score from 30 years ago saved me thousands instantly."
The final piece of the online program shopping odyssey is to solidify financial aid. The great news is that there is no difference between online education and attending a campus when it comes to receiving federal and state funding. The key to this step is attention to detail with all your paperwork. The magic of the internet makes the entire process seamless – if you dot your i's and cross your t's.
Interested in pursuing a degree?
Fill out the form and get all admission information you need regarding your chosen program.
This will only take a moment.
Online programs cater to the non-traditional student, but what is the traditional student anymore? If you want a diploma you find the most efficient way to achieve it; and then you make the best out of it. Colleges seek students who want to learn and are willing to grind it out. The current online educational climate pays off for students and universities. Now is the time to explore an online degree.