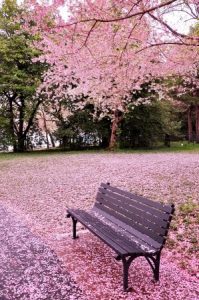 Can you believe that it is finally spring? Now that the weather is on the upswing, people will be out having fun and experiencing Washington DC for all of the spring sights and sounds it has to offer. This includes the surrounding areas of Virginia and Maryland.
There are tons of spring festivals and events during April, here are a few notable things to do.
National Cherry Blossom Festival
Visit the Tidal Basin and see the cherry tress bloom. The annual tradition is welcomed each year at beginning of April. The festival began in 1912 when Japan gifted DC 600 cherry trees. Events include, a festival, fireworks, a parade, and many cultural activities.
Southwest Waterfront Festival and Fireworks
On April 4, on the Southwest Waterfront in DC, you can experience  this annul fireworks event, tied very closely to the Cherry Blossom Festival. The entirely free event includes music, other live entertainment, and cultural events in addition to the fireworks.
International Pillow Fight Day
Bigger than you think, this day (April 4) that celebrates the simple things in life, namely pillow fights, is a spectacle throughout the city. From monument to monument you'll find people toting around pillows, ready for a breakout pillow brawl at any minute.
Washington National's Baseball
Opening day is April 6 for Washington National's baseball. This year on opening day, the Nationals will play the Mets. But don't worry if you miss this one baseball fans, the National's have 81 home games this year.
Sakura Matsuri Japanese Street Festival
Celebrated on April 11, the Sakura Matsuri Japanese Street Festival includes live entertainment, food from allover the world, cultural events, and a Ginza marketplace.
Bethesda Literary Festival
April 17-19, held annually downtown Bethesda, MD, the Bethesda Literary Festival readings, talks, contests, and galleries featuring some of the literary world's best. This year's lineup includes, Gary Krist, Jonathan Allen, Susan Coll, and Kirstin Downey among many others.
Georgetown French Market
Held over a two-day period, April 24-25m the Georgetown French Market features elite fashion events, food, French antiques and shops, art galleries, and music. We highly recommend you visit this annual event.
And that's just a handful of things to do each April. DC in spring is a wonderful time. We hope to see you here.
For more information on us, please contact us any time.
Interested in pursuing a degree?
Fill out the form and get all admission information you need regarding your chosen program.
This will only take a moment.