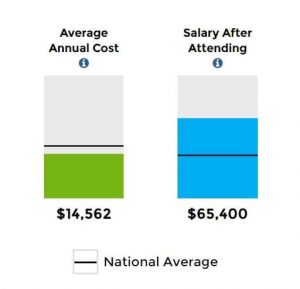 Washington, D.C. [December 15, 2015]: University of the Potomac was recently recognized in an article published by financial media company TheStreet. In the article, "11 Small Colleges That Cost the Least but Reap the Most Earnings", University of the Potomac's Vienna, Virginia, campus ranked as the second best educational institution on the list. According to TheStreet, approximately 75% of students attending earn more than those with just a high school diploma. TheStreet paid special attention to the earning attained by students graduating from the 11 educational institutions in their study of colleges and universities.
The average cost of attending University of the Potomac per year is $14,562, and TheStreet noted that University of the Potomac graduates earn an average salary of $65,400 per year. This annual figure is consistent with data provided by the U.S. Department of Education's Gainful Employment earnings for University of the Potomac. TheStreet also noted that the education costs and the earnings of graduates make University of the Potomac's education one of the best values for college students.
"The University's administration is proud to keep our education affordable for all, while offering quality courses that translate to successful careers. Our faculty and staff are dedicated to providing significant value to our students in and outside of the classroom, and we are singularly focused on helping our students achieve their career goals," said Dr. Clinton Gardner, University of the Potomac's President.
Most undergraduate students attending University of the Potomac specialize in one of the school's business programs, while others focus on information technology management programs. Graduate students enroll in master's programs in business, information technology and healthcare administration. Since 1991, University of the Potomac has been providing educational gateways into rewarding careers. University is proud to work one-on-one with students when it comes to financial affairs to ensure that all students have the best opportunities available.
For more information about University of the Potomac, degree offerings, and scholarships, visit www.potomac.edu.
About TheStreet
TheStreet is a leading digital financial media company whose network of digital services provides users, subscribers and advertisers with a variety of content and tools through a range of online, social media, tablet and mobile channels. Its mission is to provide the most actionable ideas from the world of investing, finance and business in order to break down information barriers, level the playing field and help all individuals and organizations grow their wealth. With an unmatched suite of digital services, TheStreet offers all of the tools and insight needed to make the best decisions about earning, investing, saving and spending money.
About University of the Potomac
Interested in pursuing a degree?
Fill out the form and get all admission information you need regarding your chosen program.
This will only take a moment.
Founded in 1991, University of the Potomac has cultivated a reputation of excellence and satisfaction among its graduates for more than 20 years. By providing a wide variety of top-notch, in-demand undergraduate and graduate degree programs, students can take advantage of affordable and accessible education designed with students' specific needs and goals in mind. University of the Potomac has metro accessible campuses in downtown Washington, D.C. and in Northern Virginia (Tysons Corner area). All programs are available online. University of the Potomac is accredited by the Middle States Commission on Higher Education, 3624 Market Street, Philadelphia, PA 19104, (267) 284-5000. For more information about our graduation rates, the median debt of students who completed the program, and other consumer important information, please visit our website at www.potomac.edu