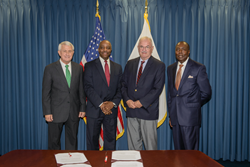 Defense Acquisition University (DAU), a best-in-class corporate university for the Defense Acquisition Workforce, and the University of the Potomac (UOTP) have signed a Memorandum of Understanding (MOU) in joint support of the Acquisition Workforce in the United States Department of Defense (DoD). This agreement, which combines best practices from both institutions, allows the two organizations to leverage their shared vision and expertise in providing education and continual career advancement to the acquisition workforce in the public and private sector.
According to the terms of the agreement:
UOTP will provide academic instruction and related professional educational services to accommodate the requirements of students in the academic programs offered: Associate of Science degrees, Bachelor of Science degrees, Master of Business Administration degree, and Certificate programs.
UOTP will accept all academically qualified individuals, subject to the school's admissions policies, register them in courses, and evaluate applicable transfer of credits. University credit may be awarded for learning experiences derived from DAU training programs or work experience if properly documented and/or American Council on Education (ACE) approved.
UOTP will accept credits earned through DAWIA certifications that can be transferred into certain Bachelor's (Level I and II certification) and Master's (Level III certification) programs. These meet the Excelerate criteria outlined at the Excelerate section of the DAU Strategic Partnership website.
UOTP and DAU upon mutual agreement will entertain collaborative research projects that benefit both the DAU and UOTP curricula.
DAU will assist UOTP in the distribution of information regarding transfer opportunities available to DAU students and place transfer information on the DAU homepage. DAU will update information on the homepage as changes occur.
DAU will work with the UOTP to identify terms, duration, and courses required to be offered at appropriate times that are flexible and convenient to the majority of students as needed.
Dr. Clinton Gardner, President and CEO of the University of the Potomac, said, "This strategic partnership will provide another pathway for members of the Defense Acquisition Workforce to leverage their DAU education and their professional achievements earned from experience and knowledge gained in the workplace. This pathway will lead many to a formal academic credential that will complement their industry certifications."
"DAU is pleased to partner with schools like UOTP that further the development of the Defense Acquisition Workforce through their credit transfer and degree programs. I expect the collaboration between our faculty to greatly benefit curriculum development for both institutions," said Dr. James McMichael, Vice President of DAU,
About Defense Acquisition University (DAU)
DAU is a best-in-class corporate university for the Defense Acquisition Workforce. Everything DAU does is to support the acquisition professional — from formal courses and continuous learning modules to knowledge sharing assets and consulting. As a learning partner, DAU supports the professional in the classroom, online, and at their workplace. All of their learning assets are meant to help develop and manage acquisition programs, projects, and systems that continue to make our nation's warfighters the best-equipped armed forces in the world. Visit http://www.DAU.mil,http://www.facebook.com/DAUNow and @DAUNow on Twitter.
Interested in pursuing a degree?
Fill out the form and get all admission information you need regarding your chosen program.
This will only take a moment.
About the University of the Potomac (UOTP)
University of the Potomac (formerly Potomac College) was founded in 1991 and offers programs that lead to the Associate of Science, Bachelor of Science, and MBA degrees. The educational philosophy of University of the Potomac is to address the needs and learning styles of a diverse community of learners through the structure of its academic programs that integrate classroom theory and relevant practical experience. University of the Potomac offers flexible class schedules in Washington, D.C., Vienna, VA, and Online.
University of the Potomac is accredited by the Middle States Commission on Higher Education, 3624 Market Street, Philadelphia, PA 19104, (267) 284-5000.
For more information about our graduation rates, the median debt of students who completed the program, and other consumer important information, please visit our website at https://potomac.edu